Cooking with Vera
From MiOS
Disclaimer
USE AT YOUR OWN RISK
Please note that the United States Department of Agriculture recommends a temperature of at least 63 °C (145 °F) for beef, veal, lamb steaks and roasts in order to prevent foodborne illness.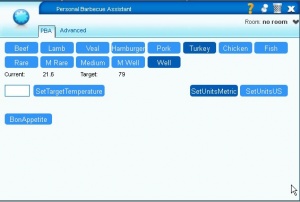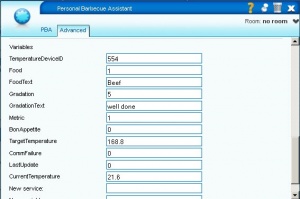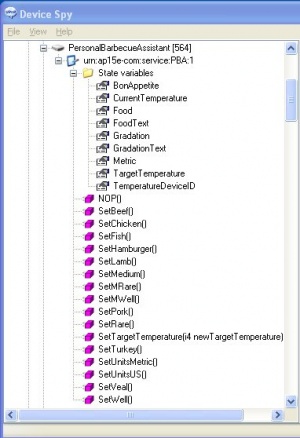 Ingredients
Directions
Connect the RFXtrx433 to your Vera.
Install the RFXtrx433 plugin.
Install and setup the PBA plugin:

Set ThermometerDeviceID to the device id of your wireless thermometer ("RFX Temp T9/...").
Setup a scene with trigger "Target temperature is reached"/"Yes" and add whatever action you would like to have executed when the target temperature is reached (e.g., switch on the table light, switch on a siren, switch off the oven, play an announcement (see example below), send an email or a SMS to your guests, ...).
Restart LuaUPnP.

Select food and gradation or set a custom target temperature (via PBA device tab).
Enjoy your meal!
Example
Example action for announcement using SAD for Squeezebox (http://wiki.micasaverde.com/index.php/Squeezebox#SAD_-_Squeezebox_Server_Announcement_Device):
LMS_IP         = '192.168.x.y'
LMS_CLI_Port   = 9090
SB_MAC         = '00:04:20:xx:xx:xx' 
 
PBA_DEVICE_ID  = 564
PBA_SERVICE_ID = 'urn:upnp-ap15e-com:serviceId:PBA'
 
local ft = luup.variable_get( PBA_SERVICE_ID, 'FoodText'     , PBA_DEVICE_ID )
local gt = luup.variable_get( PBA_SERVICE_ID, 'GradationText', PBA_DEVICE_ID )
 
local announcement = 'Your meal is ready' -- for custom target temperature
 
if ft ~= '' and gt ~= ''
 then
  announcement = 'Your ' .. tostring( ft ) .. ' is ' .. tostring( gt ) 
 end
 
announcement = string.gsub( announcement or '', ' ', '+' )
 
announcement = 'http://translate.google.com/translate_tts?tl=en&q=' .. announcement
 
LMS_Say( LMS_IP      ,   -- IP address of LMS 
         LMS_CLI_Port,   -- CLI Port of LMS (default: 9090)
         SB_MAC      ,   -- MAC address of player
         '%20'       ,   -- line 1
         '%20'       ,   -- line 2
         1           ,   -- in seconds
         announcement,   -- audio announcement
         5           ,   -- duration of announcement in seconds
         5             ) -- number of announcements